Archery Shooting@ Stars Archery, Sunway Pyramid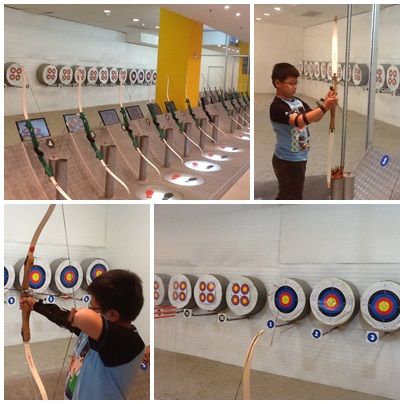 One of the activities planned for the school holidays was archery shooting. The boy was so excited as this was his first time ever holding a bow, a sport he now loves so much he rated it first favourite sport for now! He has not stopped bugging me to get a set of bow and arrows for him right after the shooting session. The archery shooting range that we went to do have bows and arrows for sale, albeit not cheap at more than RM200 for the bow alone, with cost of arrows and hand gears not factored in yet!
I searched on the internet on the possibilities of getting one on ebay. The cost for the set alone was so much more cheaper than buying locally but then the exorbitant delivery charges incurred was a set back until I stumbled upon
http://www.anyvan.com/
. This delivery auction site saves me a lot of time looking for the best delivery rate. So boy, your wish of owning a set of bow and arrows looks promising and is one step closer. Heh. :)
Back to our trip to the archery shooting range, I bought a discount coupon online earlier for RM18, walk-in price was RM40. It entitles us to play two rounds at 39 arrows each round. Mommy chipped in thinking that the boy would never had the energy to finish two rounds. Wrong! My arms started to get sored after merely 5 shots and not a single arrow hit the colours on the target board, only white! Bleh.. I then decided to transfer the remaining arrows back to the boy. LOL...
It was fun nevertheless seeing the boy enjoying it so much and will surely grab more such coupons in the future.