Restoran Pusing Public, Ipoh
*Wipes and blows off spider webs and dust* Time to update my blog again after a month-long hiatus. LOL...
I have read rave reviews about this restaurant and it was in my must-try list when we were in Ipoh for a short holiday during the CNY holidays.
On our first day in Ipoh (2nd day of CNY) after checking-in the hotel, we walked to the nearby shopping mall to do some shopping before hopping over to the restaurant which was just a stone's throw away from the hotel we stayed in. I miscalculated the popularity of the restaurant and did not bother to make any reservation beforehand. It was only 5.30pm but the restaurant was packed to the brim. Needless to say, we got "kick-out" as the restaurant was fully booked till after 9pm! The waitress was kind enough to lead me to the captain to book a table for the next day with an only available slot at 9pm.=.=

Luckily the restaurant is just right behind of our hotel. We had a good rest after our tiring but fun whole day trip to Lost World of Tambun before hopping over for our late dinner.
It was way after 9pm but look at the crowd!
As there were only three of us and knowing that the serving was big, we ordered a medium portion of fried rice and two dishes only.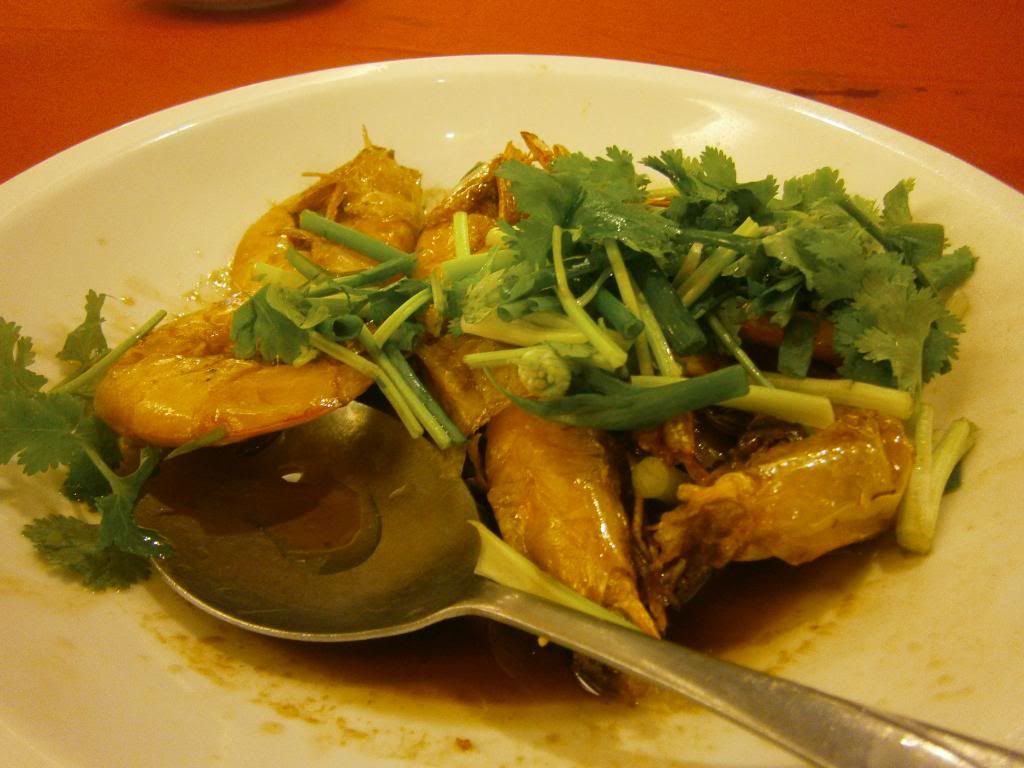 Pan Fried Prawns
Stir fried rice ala yong chow style
Broccoli with crab meat, scallops and fried wanton
I wanted to try their speciality dish, tofu with fish paste and the boy wanted fried omelette to go with his rice but apparently the chef did not bother cooking such simple dishes during peak season.
The bill came to RM73 including 3 bowls of rice and 3 glasses of tea, quite reasonable as hubby thought it would have been more. Taste wise, probably due to the holiday season, the prawns tasted a bit too salty and the fried wanton was nothing to rave about, the filling being solely fish paste.
Thumbs up for the fried rice though, the presence of "wok hei" made the simple dish ever so fragrant and delicious and the generous crab meat and scallops thrown in made the gravy of the last dish so heavenly, the boy finished one big bowl of white rice all by himself and mind you, not including the share of fried rice he had earlier. How not to become chubby boy with such healthy appetite? LOL...

Labels: Family, Food Review, Ipoh, Restoran Pusing Public, Travel